Partnership Foodstep & CHD-Expert
GAMECHANGER IN FOODSERVICE!
Foodstep = Leading in MARKET knowledge
CHD Expert = Leading in DATA knowledge
With Foodstep  super proud of the strategic alliance with CHD Expert for the Netherlands and Belgium. CHD Expert has more than 8.7 million food & hospitality locations in more than 60 countries with more than 50 relevant attributes of bizarrely high quality. The pooling of knowledge and data will help our customers to unprecedentedly sharp insights into the market and market shares. But especially in demonstrably and measurably increasing conversion rates and volumes!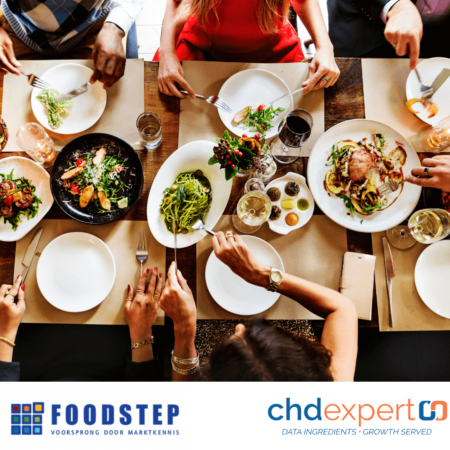 Rising to the out-of-home challenge together!
"We were already proud of the fact that in this dynamic and difficult-to-interpret market we know how big a category, product group, article is by sector, channel and segment. Proud also of measuring the developments in this. We can now add countless attributes such as terrace, size, popularity, part of a chain, delivery or takeaway, socio-demographics of the neighborhood, region… etc.. With this knowledge, razor-sharp selections can then be made within CHD Expert's database for targeted marketing and sales editing. Combining market intelligence, AI/data science, purchase potential, lead score and unique actionable data, our customers will be able to grow their foodservice business, increase their market share and pilot their sales team through our fields sales optimization solutions. An actual game changer in Foodservice! "; according to  Mark Michies  (Director Foodstep) and  Shima Zeroual  (Vice President Sales EMEA at CHD Expert EMEA).
CHD Expert is here to help and is ready when the foodservice market reopens, as our Database contains 8.7+ million foodservice operators.
Need Foodservice Data or Need More Information?
Contact us: sales@chd-expert.com