Takeaway & Food Delivery Consumer Survey – Dec 2020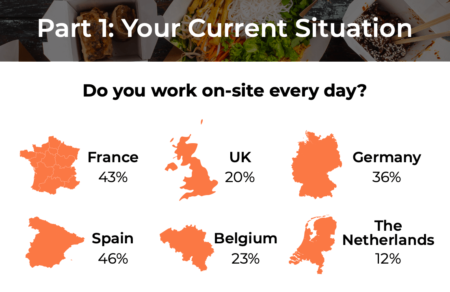 Food delivery and takeaway is key during COVID!
December 2020 – Survey was taken in Belgium, Germany, France, UK, Spain and The Netherlands in December 2020. Mainly countries were at that time again in lockdown mode.
The delivery and takeaway are keys during Covid and will probably stay still a very important offer in all market after COVID19. It will participate in the evolution of foodservice outlets and blurring the lines between the segments.
Some Takeaways from the survey:
In France, Spain and Germany, 4 out of 10 people went daily to the office;

People in UK and The Netherlands work average more at home;
In Belgium and The Netherlands,  4 of 10 people doesn't even work and are furloughed;
UK and Spain are countries where they order the most takeaway and delivery for lunch and dinner;
In Spain, one out of two are using a delivery services for lunch, even when they are in the office;
In Spain and The Netherlands the trend of takeaway and delivery food really increased;
Versus in France, takeaway & delivery  is less than 2019, because we are more at home again.