Independent foodservice data – Which ones are growing despite the crisis?
Independent foodservice data. Struggle To Find Growth.
March 2021. Over the last months 50,000 independent (*) foodservice players closed their door.
(*)foodservice operators having 1-9 units)
However, dozens of thousands operators continued to Grow in 2020l operators continued to drive growth in 2020 .
Understand the Independent Foodservice Landscape, get the Data and grow your business.
Independent foodservice data. Five things to know about the market.
1. The independent market is growing with an average of 5%.
2. The top 3 most growing independents, based on menu segment are:
Chicken: +23%
Bakeries & Donuts: +10%
Latin American: +8%
3. The independents with the highest number of outlets are Classic & Varied Menu, with almost 100,000 foodservice outlets.
4. The top 3 most growing states for independents are Florida, New Jersey and Georgia.
5. California has the most independent outlets with almost 62,000 independent outlets (of the 500,000 outlets CHD Expert has in its database).
CHD Experts counts around 500,000 independent foodservice operators in the US. Now is the time to invest in Independent Foodservice Data to customize a data solution tailored to fit and grow your business.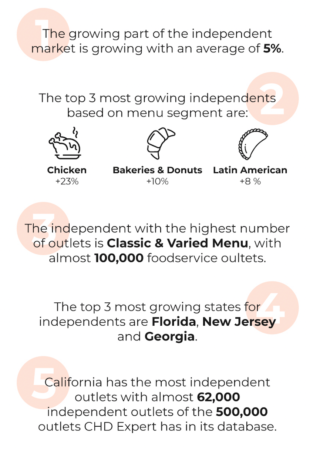 Our data can be used to identify new markets, scale your business and increase your conversion rate.
Start prospecting the independent operators today