Burger Boom in UK – DE – ES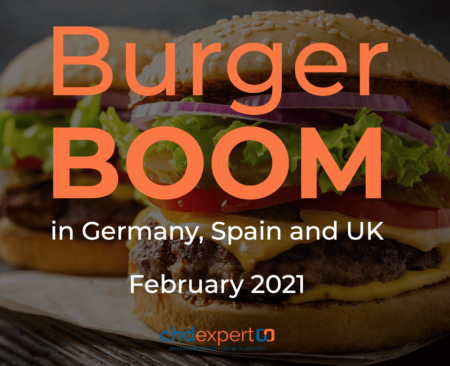 Burger Boom - Get the Burger Foodservice Data!
The origin of the hamburger is somewhat subjective, but its growing popularity today is undisputed. When it comes to handheld meals, burgers continue to be king.
Burgers are big business 🍔!
Why start prospecting the burger operators? 
Burgers are remarkably adaptable and often serve as the basis for flavor innovation in sauces, toppings and even proteins. Fast-food establishments and full-service restaurants continue to add new burger options to their menus in an effort to keep up with consumer demand and changing tastes.
As the industry shifts toward greater usage of takeout and delivery, burgers are well-positioned to capitalize. Very few handheld items travel as well as burgers, and they should benefit from the increased emphasis on off-premise consumption.
[/vc_column]
CHD Experts counts around 100,000 burger establishments in UK – Germany & Spain. Now is the time to invest in Foodservice Data to customize a data solution tailored to fit and grow your business. Get the Burger Foodservice Data!
[/vc_column]

[/vc_column][/vc_row]
[/vc_column]
[/vc_column]
[/vc_column]
[/vc_column]
[/vc_column]
[/vc_column]
[/vc_column]
[/vc_column]
[/vc_column]
[/vc_column]
[/vc_column]
[/vc_column]
[/vc_column]
[/vc_column]
[/vc_column]
[/vc_column]
[/vc_column]
[/vc_column]
[/vc_column]
[/vc_column]