Más de 90,000 restaurantes para prospectar en Argentina, Chile y Uruguay
Restaurantes para prospectar
¿Sabías que ?
Chile cuenta actualmente con más RSC por 1,000 habitantes que los demás paises del Cono Sur
El covid ha golpeado más duramente a los RSC de Argentina en el momento de hacer el estudio (abril 2021)
Uruguay, el auténtico país de la pizza en el Cono Sur !!
RSL se ha mantenido resiliente en Argentina y en (maybe we can add the flags of Chile Argentina Uruguay) tienen un peso similar
90,000 restaurantes para prospectar !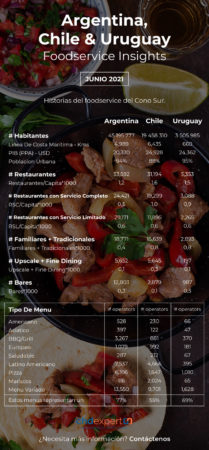 Start prospecting the right food service operators in Spain today.
Increase your turnover, in order to increase your market share.
Get your free sample of the Spanish Foodservice Market.
Need Foodservice Data or Need More Information?
Contact us: sales@chd-expert.com