Outlets with outdoor seating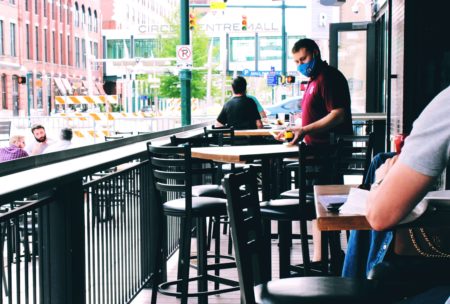 Eating outside at restaurants during COVID-19
July, 2020 — The restaurant sector is experiencing one of the biggest shifts in consumer behavior since COVID-19, and foodservice operators must adapt and rethink their offering. Eating outside is one of the solutions!
At this point, almost every country or state has entered some phase of reopening. As certain areas see COVID-19 cases and hospitalizations rise, it seems that some restaurants have opened too soon.
Broadly, restaurants are encouraged — or ordered — to reduce capacity and space out tables, but the exact rules vary from country to country or state to state, and with no universal guidance, restaurants are left to design their own guiding for creating safe spaces for their employees and customers. It hasn't been entirely successful, as some countries, states or cities have been forced to shut down again as customers and employees test positive for COVID-19,  begging the question: Even if you can go to a restaurant, should you?
The decision of whether or not to dine out depends on several factors:
It is a personal thing, if you are open to it or not;
It dependents on the prevalence of the disease in your region;
It depends on the restaurant's design and safety protocols,
While there is no absolutely risk-free way to eat out right now, there are scenarios that are safer than others. One of them is the outdoor or patio seating. The natural ventilation of the outdoors makes it safer than enclosed spaces.
As with indoor seating, it's vital that diners take social distancing into account when eating outside, whether it's on a restaurant's patio or in a park. Being outdoors is not sufficient itself! You should be good to eat if:
All of the chairs (not just the tables) are at least 6 feet apart;
The restaurant has left at least 4 feet of room on the sidewalk for those in wheelchairs, and other pedestrian;
Dining is set up in a closed-off street (pedestrian traffic will be no issue);
Your server is wearing a protective face mask and gloves, changing them often:
Tables have been sanitized.
HOW PATIO SEASON WILL CHANGE
CHD Expert expects to see a number of changes, including a limited number of tables, a reduction in service and less time spend at the tables, and mandatory reservations to prevent lineups from occurring outside of venues.
Bathroom runs will also present new issues. Restaurants need to have a system where they don't have an excess amount of people congregating in the washrooms.
Why did it take a pandemic for the government to allow people to eat outside in certain countries like the US?
Get the insights of countries with outdoor seating!