9,300 Permanent Closures in July 2020
August, 2020 — The restaurant industry now reflects the highest total business closures. Many have tried to adapt with online ordering, curbside pickup, home delivery, outdoor seating… 
As of August 1st, CHD Expert counts a total of 33,400 permanent closed operators for the last five months, with 9,300 closures in July only.
With a second wave of shutdown having been enforced across America, CHD Expert believes many more permanent closures are on the horizon.
"Two things we must be aware of: First, we anticipate states will delay reopening plans and we will see a declining new landscape, which will inevitably impact the future success of businesses, turning even more temporary closures into permanent ones. Second, the permanent closure rate will continue. The virus isn't going anywhere soon, so businesses will need to be resilient" Jolien Demeyer, global marketing director at CHD Expert.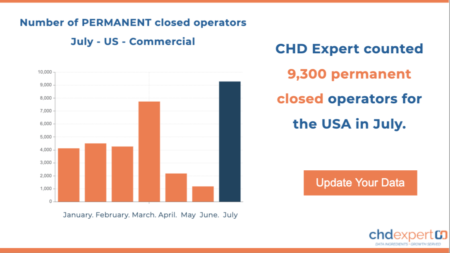 California has seen the highest number of permanent closures, accounting for about 14% of all restaurants that have gone out of business, followed by Texas at 9% and New York at 7% (see graph – Top States).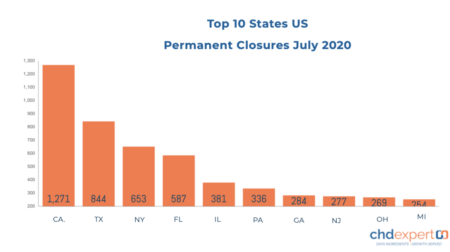 The operators who are suffering the most are:
1. Traditional Restaurants – Casual with 30% of permanent closures
2. Quick Service Restaurants with also a 30% closure rate
3. Café Restaurant – Family Style with 9% closure rate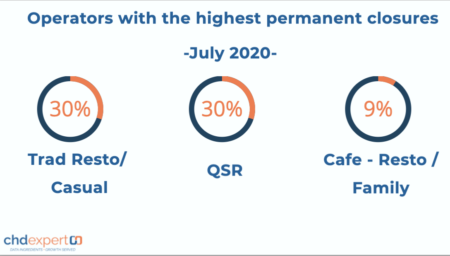 In general, we expect these closures to continue. Restaurant owners have been forced to quickly come up with new adaptations on menus, points of service, hours, delivery and takeout models that better serve their local communities just to keep the lights on.