Food Industry Trends 2020: Permanent Closures in Restaurant Industry During COVID
Facts and figures don't need to tell us that there has been a decline in the food industry this year, as the permanent restaurant closures during COVID can be seen by driving down the street. But statistics can tell us the extent of the effect that the pandemic has had on the country's restaurants.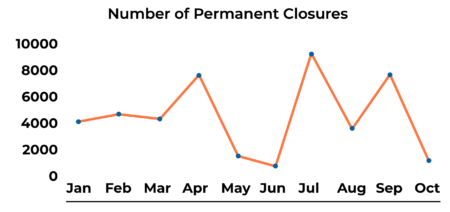 Oct – 2020. More than seven months into the coronavirus pandemic, restaurants across the country continue to close. More than 40,000 have closed since March due to the financial downturn caused by the COVID-19 pandemic. Among them are some of our favorites restaurants.
In all likelihood, though, this is only the beginning of permanent closures, as loans and rent payments continue to mount. Many restaurants could permanently close by the end of the year if they don't receive additional government aid. CHD Expert is tracking the data on these foodservice restaurant closures, and we fear that the number will only continue to grow.
Restaurant Closures In The US
What do we saw in October:
1,100 permanent closures
2,552 temporarily closures
Top 5 cities include: New York – Chicago – Dallas – Houston – San Anonio
Top 3 states include:  California – New York – Texas
Traditional restaurants are closing the most
Get the data behind the permanent closures in the foodservice restaurant industry.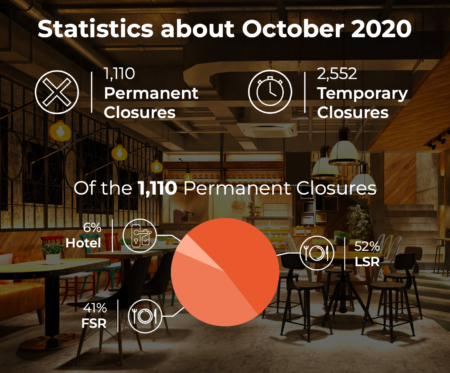 Restaurant Closures By State

Our infographic shows where the restaurant closures have occurred across the US by state. Data shows that more restaurants have been closed due to COVID in California than any other state, with Florida and Texas a close second and third. 
The states least affected by Coronavirus closures is North Dakota and Wyoming, closely followed by Montana and Nebraska.