The New Business Foodservice Landscape in the U.S
The foodservice landscape is shifting all around the globe. Navigating the new landscape can be a challenge, and we do see a declining new business landscape (see figure 1 – evolution open rate US).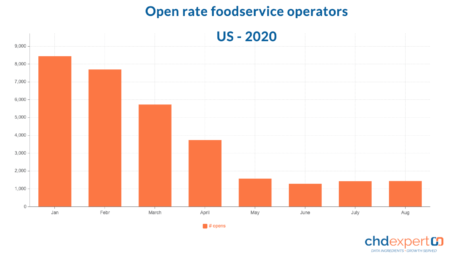 Figure 1 – Evolution Open Rate US
The industry continues to face significant challenges. For the past months, the number of new foodservice operators have decreased.
What we have seen in August 2020:
Most openings per Menu Segment:

Varied Menu – 14%
Fried Chicken – 13%
Mexican – 8%

Most openings per State:

CA – 10%
TX – 9%
FL – 8%
NY – 6%
GA – 6%

Most openings per #of units

Independents (1-9 stores) – 76%
Chains (10+ stores) – 24%